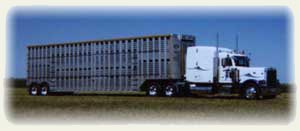 Long Haul Cattle Trucks
Beef Corp is a dedicated long-haul cattle trucking company that operates in all 48 states and Canada. We utilize modern equipment along with seasoned drivers who know how to get the job done. We have an excellent support staff always available to help insure the safe and timely delivery of your cattle.

Our drivers stay out on the road long enough for us to be able to offer to the customer the best possible rates and enable the drivers to generate the best revenue for themselves. We are currently dispatching a fleet of 25 air-ride equipped trailers that consists of 53' Triples and Spreads.